The Naylor Densleeve underground clay drainage system of DN100, 150, 225 and 300 vitrified clay pipes and fittings with flexible sleeve couplings, was developed for building drainage and associated sewerage and is manufactured to comply with the stringent requirements of BS EN295.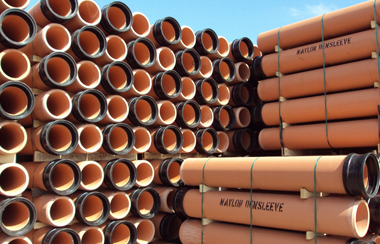 The flexible joints ensure that the pipeline will accommodate minor settlement and ground movement without failure. Vitrified clay pipes and fittings are rigid and do not distort under loading.
Their high inherent strength ensures stability under even the highest loadings. The Densleeve clay drainage system is extremely durable: for design purposes, a vitrified clay pipeline can be considered to have unlimited life.
Densleeve pipes and joints will not distort, soften or embrittle, even when subjected to extreme of temperature.
Regular deliveries allow Central Civil Supplies Limited to source products at very short notice.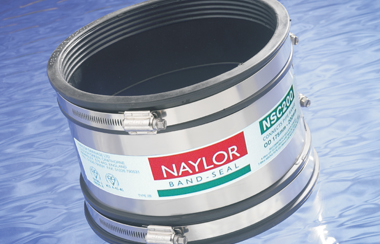 Naylor Band-Seal is a range of versatile, flexible couplings used for jointing pipes of both similar and different materials and sizes. The couplings are especially suitable for drains, sewers and underground pipelines. The extensive range connects pipes from 24mm to over 2000mm nominal size (DN), to other pipes of the same or different sizes and materials.
The Band-Seal range of couplings consists of moulded synthetic elastomeric sleeve and stainless steel clamping bands. Standard Couplings also include a stainless steel shear band. A wide range of Bushes, Tools and End Caps complete the ranges.
Band-Seal Couplings are manufactured to exacting standards and are used extensively by Water Companies and Local Authorities throughout the UK as well as being distributed worldwide.