Throughout the world, the ACO brand is recognised as a leading supplier in the design, development and manufacture of surface water drainage. An extensive portfolio offers the market quality solutions for every application, whether light domestic or heavy duty use.
The group has over 40 years experience of channel drainage installation, with more than 5 million metres of ACO products installed in the UK – and more than 100 million metres worldwide.
MultiDrain™MD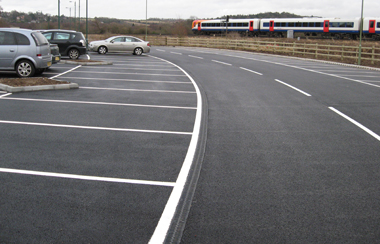 The ACO MultiDrain™MD System is available in both sloping and constant depths and has a range of channel widths; 100mm, 150mm and 200mm. The channel unit forms the main component of the system which can then be combined with a grating to suit the required application.
You can choose from a range of traditional and discreet slot drainage gratings, solid covers and cross footpath drainage units to ensure a wide variety of applications are catered for. The system's gratings are fitted with ACO Drainlock™, a bar-less locking device which reduces the risk of blockages and improves hydraulic capacity. Manufactured from polymer concrete, ACO MultiDrain™MD System is tough and robust and provides high chemical resistance. The lightweight design ensures quick and easy installation.
As standard, channels are manufactured with UltraSTEEL™ protective edge rails. The UltraSTEEL™ rails, with their unique patented design, provide optimum channel protection and improved bonding between channel sides and the surrounding pavement material.
The system is fully certificated and CE marked to BS EN 1433:2002 from Load Class A 15 pedestrian areas, up to and including Load Class D 400 suitable for parking of all types of road vehicles*. *Not suitable for carriageways of roads.
RainDrain®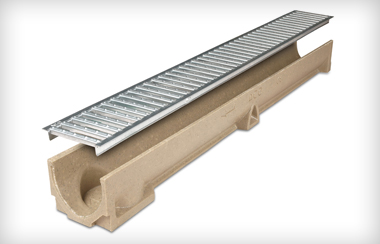 ACO RainDrain® is a lightweight channel drainage system designed to provide surface water drainage for a range of domestic and light duty traffic applications.
Manufactured from Vienite® , ACO's high strength sustainable material, the 1m channel unit comes complete with a galvanised steel grating suitable for pedestrian areas and domestic drives (Load Class A 15). By selecting the cast iron grating option, the system can be used in Load Class B 125 applications making it suitable for light vehicle traffic.
S Range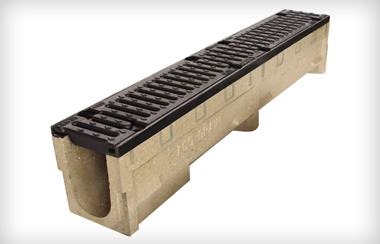 ACO S Range is a channel drainage system designed to provide efficient removal of surface water in heavy duty applications.
Manufactured from Vienite®, ACO sustainable high strength material, ACO S Range is tough channel drainage system with excellent chemical resistance. Integral cast iron edge rails provide maximum protection for the channel body. The system is available in four channel widths and is provided in constant and sloping depths for optimum performance and system design.